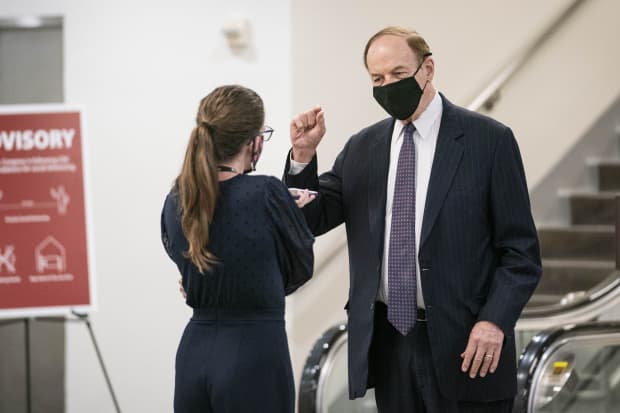 Sen. Richard Shelby, R.-Ala., speaks to a reporter as he departs from the U.S. Capitol on Friday. (Getty Images)
With the Dow Jones Industrial Average suffering its biggest single-day drop since early September and the coronavirus pandemic picking up steam, Washington threw in the towel Monday on efforts to help the economy.
The Senate, after confirming Amy Coney Barrett's nomination for the U.S. Supreme Court, closed up shop until after the election, allowing its members to depart the capital and join their House counterparts on the campaign trail, where the representatives have been since early October.
Read more: Amy Coney Barrett elevated to the Supreme Court following Senate confirmation
The Senate action, which had been expected, marks the final shoe to drop on three months of negotiations involving the House Speaker Nancy Pelosi, Treasury Secretary Steven Mnuchin and Senate Republicans to get a deal done in time to take credit at the polls.
In an MSNBC interview Monday night, Pelosi, who earlier in the day was "optimistic" about a bargain, half-jokingly conceded the point about the on-again, off-again talks.
Host Chris Hayes said, "I have to say, I feel like I'm insane. I'm watching this — there's no deal happening!"
"Exactly right! Exactly right!" Pelosi said, laughing.
She agreed with Hayes that the differences over testing and contract tracing were too big to be papered over, but added "it could" be if the administration changed its position and moved toward hers.
The failure of the talks, which began in earnest in July when Senate Republicans tried to coalesce around a common position in response to a $3.4 trillion Democratic initial offer, came on a bad day for stocks.
The Dow DJIA, -2.29% fell by more than 650 points, or 2.3%. That was its worst daily loss, both in points and percentage-wise, since Sept. 3.
Read more: Dow ends 650 points lower as rising COVID-19 cases, stalled stimulus efforts highlight recovery jitters
At the same time, the coronavirus looked resurgent as it continued to show signs of spread — in rural states in particular. The COVID Tracking Project, associated with The Atlantic magazine, said new cases nationally totaled about 63,000, and hospitalizations, at about 43,000, were at their highest level since mid-August.
Earlier in the day, Pelosi and Mnuchin talked for almost an hour, with no agreement.
"As the nation faces record spikes in new COVID cases, we continue to eagerly await the Administration's acceptance of our health language, which includes a national strategic plan on… testing and tracing," Pelosi's deputy chief of staff, Drew Hammill, tweeted.
Despite the lack of an agreement, Hammill tweeted, "The Speaker remains optimistic that an agreement can be reached before the election."
That outlook was not widely shared on Capitol Hill.
"I think it's about midnight," Sen. Richard Shelby, the Alabama Republican who heads the powerful Senate Appropriations Committee, told reporters.
Shelby's panel would be involved in almost any version of a stimulus package.
The Senate is slated to return to session Nov. 9, the week after the election, while House members are not due back until Nov. 16. When they return, they face a deadline of Dec. 11 to reach agreement on another stopgap funding bill to keep the government open.
Whether the odds for a stimulus bill improve in the lame-duck session is unclear.
"My sense is that when you get past kind of the hot rhetoric of the moment, that most people believe that even though we can't do everything, we ought to do something," said Sen. John Thune, the second-ranking Republican in the Senate, on Sunday.
Shelby said he had talked to Mnuchin and his counterpart on the House side, House Appropriations Chairman Nita Lowey, last week. He said did not know if the political dynamics would shift in the lame-duck session to favor a deal.
"We'll see what happens," he said. "We'll just have to wait and see."