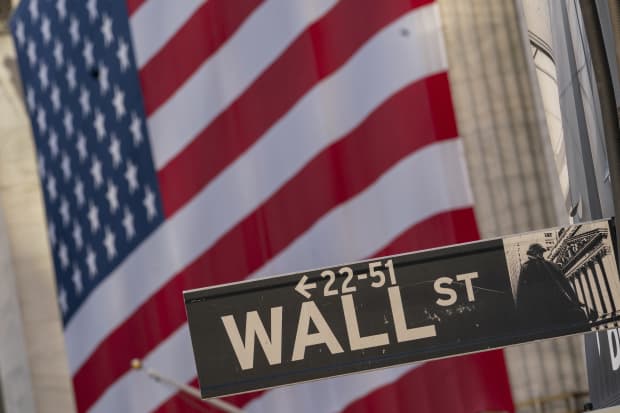 Stock-market losses snowballed Monday as COVID-19 cases in the US. and Europe surge and a final agreement on a new round of fiscal spending remained elusive, reflecting the lingering risks thwarting the economic recovery.
What are major benchmarks doing?
The Dow Jones Industrial Average DJIA, -2.88% was down 828.22 points, or 2.9%, at 27,507.35, while the S&P 500 SPX, -2.38% dropped 81.01 points, or 2.3%, to 3,384.38. The Nasdaq Composite COMP, -2.28% was down 229.52 points, or 2%, at 11,318.77.
See: Dow plunge erases October gain, on track for close below 50-day moving average
The Dow fell 1% last week, ending Friday at 28,335.57, while the S&P 500 saw a 0.5% weekly fall to end at 3,465.39. The Nasdaq dropped 1.1% for the week, closing Friday at 11,548.28. The weekly declines were the first in three weeks for the S&P 500 and Dow and the first in four weeks for the Nasdaq.
What's driving the market?
New COVID-19 infections continued to rise in the U.S. while Europe saw Spain and Italy impose tighter restrictions on activity in an effort to contain a surge in new cases.
The U.S. saw 83,757 new cases of COVID-19 on Friday, topping the previous high of 77,632 seen on July 16, and reported more than 80,000 cases again on Saturday, The Wall Street Journal reported, citing data compiled by Johns Hopkins University. The U.S. saw more than 60,000 new cases on Sunday — the tally tends to fall at the start of a week due to lower testing rates over weekends.
The seven-day moving average of new cases was 68,767, the report said, citing Johns Hopkins data, compared with a 14-day moving average of 62,387. When the seven-day average exceeds the 14-day, it indicates that cases are rising.
"Rising virus counts and surging numbers in Europe have investors in a cautious mood. They should be careful, as any serious surge will cause a decline in the pace of economic recovery. But a surge won't last forever. Hopefully, the economic damage will be a slowdown in the pace of recovery and not a reversal," said James Meyer, chief investment officer of Tower Bridge Advisors.
Several top aides to Vice President Mike Pence, including his chief of staff tested positive for COVID-19 over the weekend. Pence, who has tested negative, will remain on the campaign trail while taking precautions, White House chief of staff Mark Meadows said on Sunday.
House Speaker Nancy Pelosi, D-California, on Sunday told CNN she's waiting for a "final yes" on an aid package from the White House. Talks continued through last week between House Democrats and the Trump administration, but a final agreement remained elusive. Pelosi and Meadows on Sunday each accused the other side of "moving the goal posts" in the negotiations.
Investors have said the chance of a "blue sweep" in Congress and the White House means a large fiscal spending measures are still on the table next year. But some market participants say even those who believe in the blue sweep narrative, may be getting nervous as the likelihood of a split Congress could frustrate hopes for aggressive spending from Washington.
In One Chart: Stocks usually rally in final 8-day stretch of presidential election races, history shows
"These trades get re-assessed now as fiscal gets questioned here. Doubts creep in and positions will be adjusted to run a more neutral setting," said Chris Weston, head of research at Pepperstone, in a note.
Investors are bracing for a deluge of quarterly earnings in the week ahead, including reports from more than a third of the S&P 500, including tech-related highfliers Facebook Inc. FB, -2.85%, Amazon.com Inc. AMZN, -0.90%, Apple Inc. AAPL, -0.90%, Microsoft Corp. MSFT, -3.00% and Google parent Alphabet Inc. GOOG, -3.32% GOOGL, -3.36%.
See: Stock-market investors brace for busiest week of earnings in October's final hurrah
Tech stocks were taking the least of the market's losses on Monday, with more stocks in economically sensitive industries showing the biggest declines.
Also read: Ready for another Big Tech hearing/earnings double-header?
In U.S. economic data, September home sales unexpectedly slowed, falling 3.5% to a 959,000 annual pace. The Chicago Fed's national activity index for September came in at a reading of 0.27, down from 1.11 in August.
Which companies are in focus?
What are other markets doing?
The yield on the 10-year Treasury note TMUBMUSD10Y, 0.801% fell 4 basis points to 0.801%. Bond prices move in the opposite direction of yields.
The Shanghai Composite SHCOMP, -0.82% fell 0.8%, while Japan's Nikkei 225 index NIK, -0.09% declined 0.1%. The pan-European Stoxx 600 Europe index SXXP, -1.80% fell 1.8%, while London's FTSE 100 UKX, -1.16% shed 1.2%.
Oil futures were under pressure, with the U.S. crude benchmark CL.1, -3.61% down 3.2% at $38.54 a barrel on the New York Mercantile Exchange Gold was slightly higher, with the December contract GOLD, -0.29% trading near $1,907 an ounce.
The ICE U.S. Dollar Index DXY, +0.27%, a measure of the currency against a basket of six major rivals, was up 0.3%.